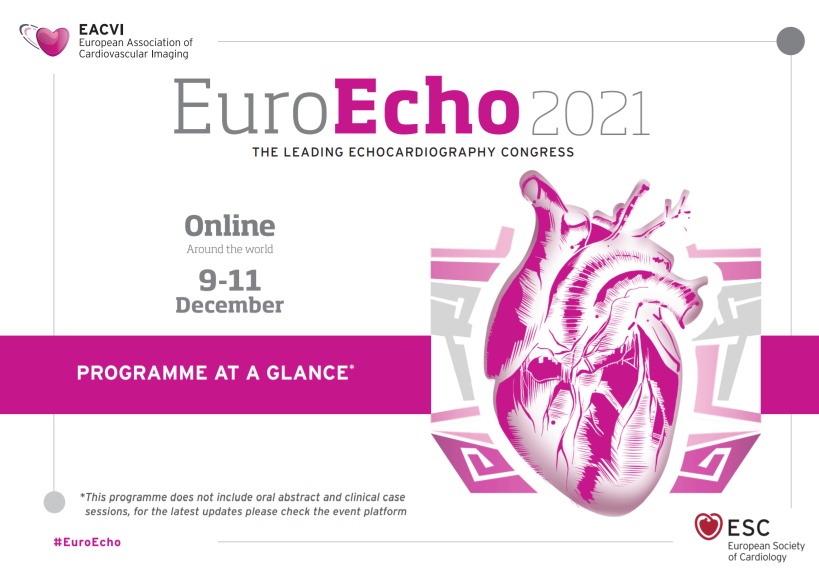 W dniach 11-12 grudnia 2021 odbył się w formule online (planowany pierwotnie w Berlinie) Kongres Euroecho 2021, najbardziej prestiżowa europejska konferencja poświęcona obrazowaniu w kardiologii.
Jak co roku, nie zabrakło nowości, znakomitej edukacji i najświeższych doniesień naukowych.
Tradycyjnie znaczącą rolę odegrała w Kongresie reprezentacja naszej KAtedry.
W trakcie Kongresu prof. Jarosław D. Kasprzak przewodniczył wraz z dr M. Garbi sesji "Management of asymptomatic severe aortic stenosis: evolving concepts" , a dr Błażej Michalski – sesji Heart Imagers of Tomorrow "How to use imaging to assess congestion in heart failure". Dr Michalski przedstawił także na zaproszenie Organizatorów  prezentację"Echocardiography in the unstable patient with acute myocardial infarction" w sesji "Echocardiography on the edge: added value in the critical patient".
Ponadto w sesjach doniesień oryginalnych zaprezentowane zostały następujące prace:
1. Percutaneous closure of atrial appendage with thrombus – a strategy shift? Report of a case series
JD Kasprzak, JZ Peruga, D Filipiak-Strzecka, E Szymczyk, K Wdowiak-Okrojek, P Lipiec.
2. Predicting maintenance of sinus rhythm after cardioversion – novel versus conventional left atrial parameters
K Kupczynska, B Michalski, D Miskowiec, P Lipiec, JD Kasprzak.
3. Echocardiographic assessment of pulse wave velocity in psoriatic patients with and without psoriatic arthritis.
K Wierzbowska-Drabik, A Gruchala-Cislak, M Skibinska, A Lesiak, M Niedzwiedz, JD Kasprzak, J Narbutt.
4. Left atrial strain determinants across heart failure stages; insight from MASCOT registry.
G Benfari 1 , GE Mandoli 2 , J Magne 3 , M Miglioranza 4 , R Ancona 5 , V Reskovic Luksic 6 , MC Pastore 2 , C Santoro 7 , B Michalski 8 , D Muraru 9 , E Donal 10 , B Cosyns 11 , T Edvardsen 12 , B Popescu 13 , M Cameli 2 , 1 University of Verona, Cardiology – Verona – Italy , 2 University of Siena, Cardiovascular Disease – Siena – Italy , 3 University Hospital of Limoges – Limoges – France , 4 Institute of Cardiology – Porto Alegre – Brazil , 5 Santa Maria delle Grazie Hospital – Pozzuoli – Italy , 6 University Hospital Centre Zagreb – Zagreb – Croatia , 7 Federico II – Naples – Italy , 8 Medical University of Lodz – Lodz – Poland , 9 Universita Milano-Bicocca – Milan – Italy , 10 University of Rennes 1 – Rennes – France , 11 University of Brussels – Brussels – Belgium , 12 University of Oslo – Oslo – Norway , 13 University of Medicine and Pharmacy Carol Davila – Bucharest – Romania
5. The ischemic cascades in contemporary patients: five distinct phenotypes assessed by ABCDE stress echocardiography
A Zagatina 1 , Q Ciampi 2 , L Cortigiani 3 , K Wierzbowska-Drabik 4 , M Haberka 5 , A Djordjevic-Dikic 6 , A Boshchenko 7 , F Rigo 8 , I Simova 9 , C Dodi 10 , N Gaibazzi 11 , D Morrone 12 , A Barbieri 11 , P A Pellikka 13 , E Picano 14 , 1 Saint-Petersburg State University Hospital – Saint Petersburg – Russian Federation , 2 Fatebenefratelli Hospital of Benevento – Benevento – Italy , 3 SAN LUCA Hospital, Cardiology Department – Lucca – Italy , 4 Bieganski Hospital, Medical University, Cardiology Department – Lodz – Poland , 5 SHS, Medical University of Silesia, Cardiology Department – Katowice – Poland , 6 Clinical center of Serbia and School of medicine University of Belgrade – Belgrade – Serbia , 7 Cardiology Research Institute Tomsk National Research Medical Centre Russian Academy of Sciences – Tomsk – Russian Federation , 8 Ospedale di Dolo-Venice, Cardiology Department – Venice – Italy , 9 Heart and Brain Center of Excellence, University Hospital, Cardiology Department – Pleven – Bulgaria , 10 Ospedale di Cremona, Cardiology Department – Cremona – Italy , 11 Parma University Hospital, Cardiology Department – Parma – Italy , 12 University of Pisa, Cardiothoracic Department – Pisa – Italy , 13 Mayo Clinic – Rochester – United States of America , 14 CNR, Institute of Clinical Physiology, Biomedicine Department – Pisa – Italy ,